My son, Michael Dolphin, built this new website and blog for me some time ago but I've been on a bit of a painting break and haven't had anything useful to say.
The time has come to get back to it and I'm launching this site with a new video which I filmed a year ago but finally edited this week.
This painting, Floral Fireworks, was done last year as an entry in a fundraising auction for our local community art centre. I shot video of the process but it's taken a while to finish the editing and post it to Youtube. I've uploaded it in three parts so I could leave in more detail but still keep it manageable.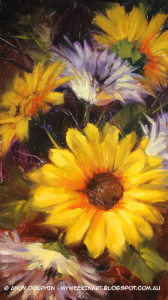 Floral fireworks
12.5cm x 22.5cm oil on ply panel.
© Andy Dolphin
 Anyway, you can check out part one of the video here but I always recommend viewing it on Youtube for best resolution.